Exciting Changes Coming for NatureServe Vista
Two new releases plus a complete modernization
---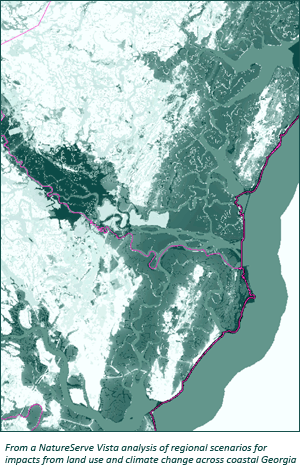 NatureServe's newest build will be out in early January. This build will offer some improvements in processing time. We are then planning another release in Spring 2018 that will support applications during our complete modernization. NatureServe is committing approximately $500,000 to completely rebuild Vista from the ground up. We will be issuing a survey shortly to get our users' input on what and how Vista can do to support your applications. 
NatureServe offers complete support services, including technical support, live and online help desks, training programs, and other conservation-planning and ecosystem-management consulting services.
NatureServe Vista is currently free to download for non-commercial use at www.natureserve.org/conservation-tools/natureserve-vista, where registrants can access additional resources, including FAQs, detailed user guides, and details on other companion tools. Registered users of Vista receive notifications on new updates, typically 2-3 times per year. 
Commercial users, please refer to the license agreement after downloading Vista to ensure compliance with its terms. Commercial use of NatureServe Vista is defined as any use of the software for a 3rd party that is compensated monetarily, regardless of the nature of the organization using the software (including non-profit, government, or academic institutions providing services to others using NatureServe Vista for any monetary compensation).