Stronger Ties and Stronger Science at BWB 2015
The NatureServe Network's annual conference gathers in Michigan for four days of collaboration and biodiversity conservation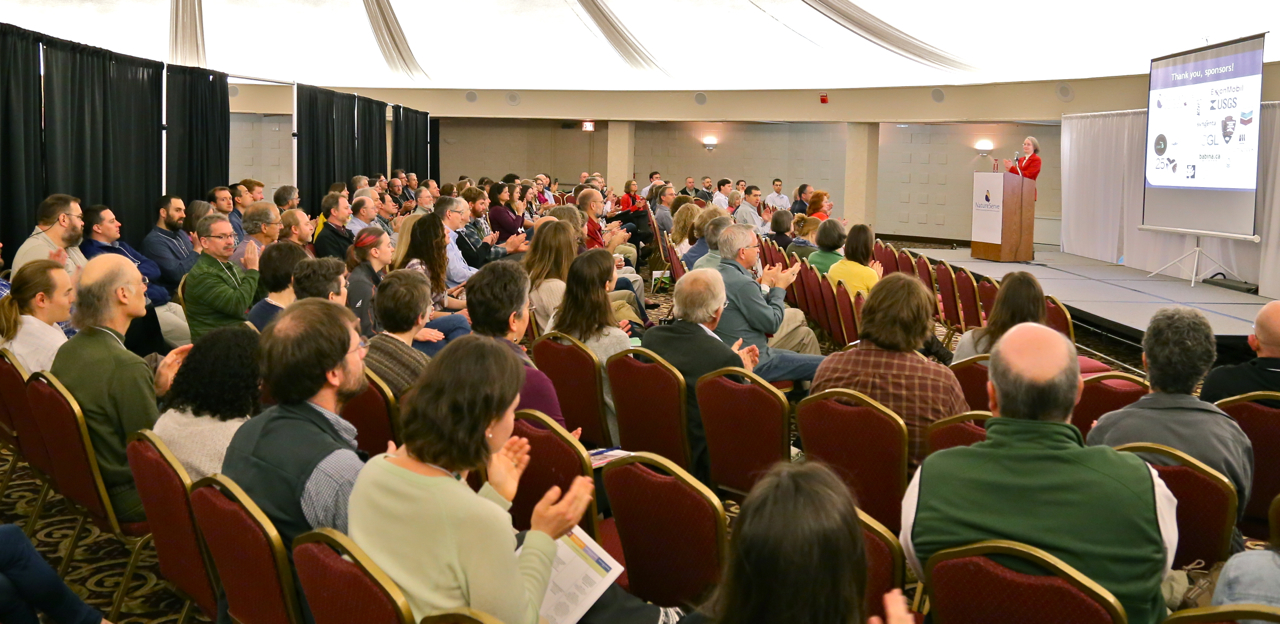 Beautiful—and biologically bountiful—Traverse City, Michigan played host to the NatureServe Network's annual conference, which ran April 27-30 in the resort town's bustling downtown district.
Biodiversity Without Boundaries 2015 brought together nearly 200 scientists, natural resource managers, and corporate and public decision-makers to discuss the most pressing conservation issues of today—issues including climate change, land conservation, freshwater and marine protection, forest ecology and management, data sharing, and emerging technologies.
Below, we've compiled some of BWB 2015's highlights. The conference's 100 workshops and panels covered a wide range of topics, including:
The Great Lakes – Just as the Great Lakes dominate the Michigan landscape, so too did they dominate the discussions at this year's BWB, with a symposium that spanned all four days of the conference. The series of presentations and discussions addressed the latest research, ongoing conservation efforts, challenges, and opportunities presented by the Western Hemisphere's largest collection of freshwater ecosystems.
Landscape Conservation Cooperatives – This day-long symposium brought together leading voices from the NatureServe Network and the drivers behind the string of Landscape Conservation Cooperatives that stretch across the United States and parts of Canada. The goal: to build and strengthen a collaborative vision for how these two powerful, like-minded networks can play a more prominent role in the future of conservation.
Joining the Giants of Conservation Science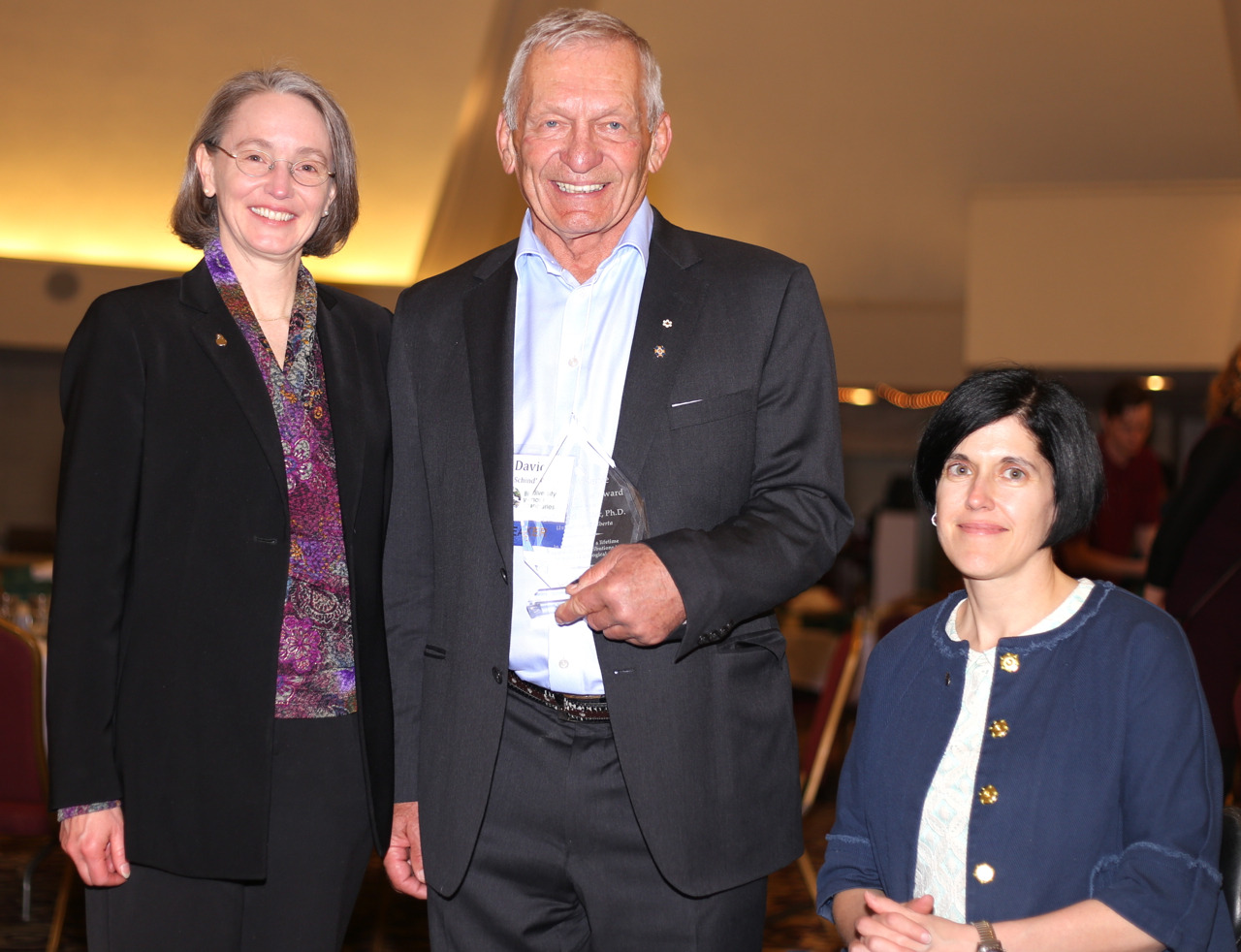 Dr. David Schindler—perhaps the world's leading authority on the ecology of lakes—won the 2015 NatureServe Conservation Award, becoming the sixth person to earn the accolade.
David's storied career made its first waves as the longtime director of the famed Experimental Lakes Area in Canada. His groundbreaking discoveries and maverick scientific style helped lay the foundation for mankind's understanding of freshwater ecosystems, acid rain, climate change, and oil sands mining. Many of these breakthroughs spurred landmark legislation in Canada, the U.S., and abroad.
Celebrating the Network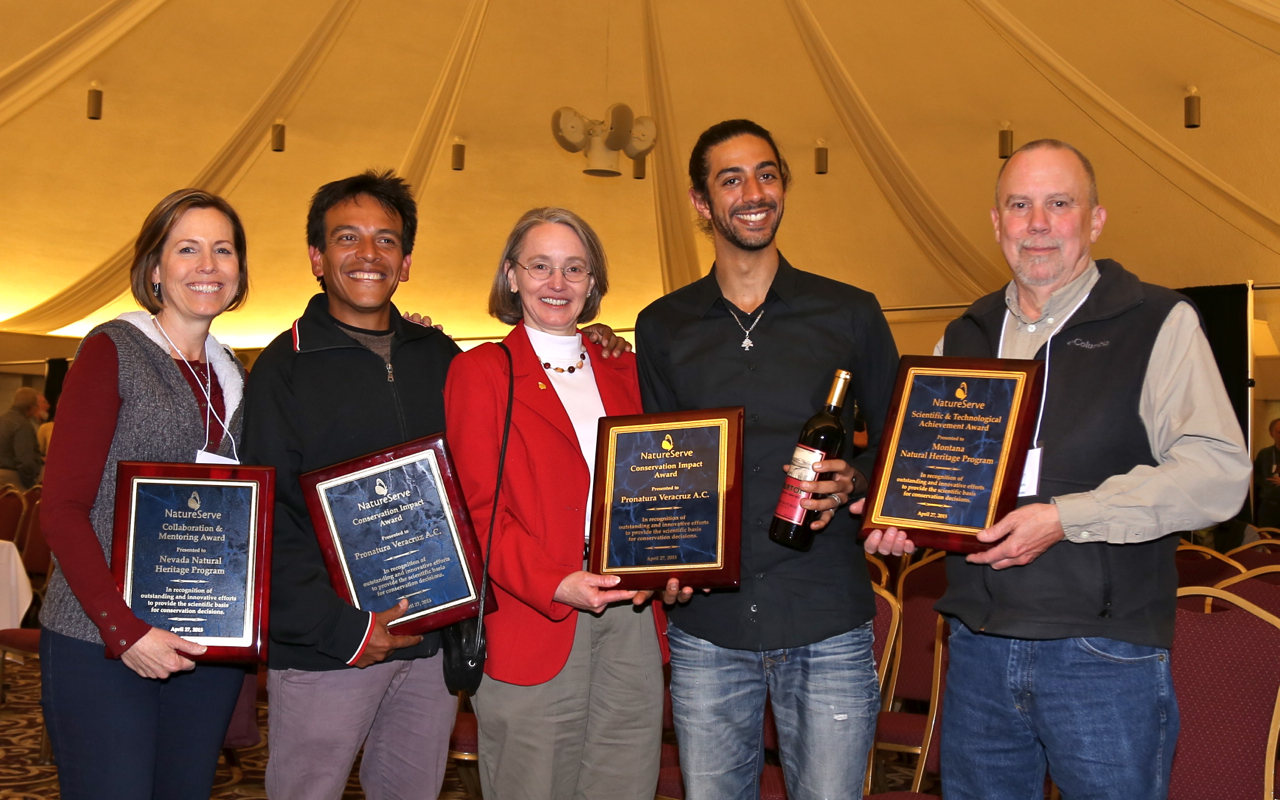 Pronatura Veracruz, the Montana Natural Heritage Program, and the Nevada Natural Heritage Program took home this year's NatureServe Member Awards, which recognize our members' contributions to conservation decision-making and their outstanding achievements to promote and enhance the Network.
Celebrating Individual Impact
Two Network alumni were bestowed with the NatureServe Alumni Award, which commends the lasting contribution of exemplary individuals who have retired or who no longer work within the Network.
Dennis Albert
Prior to taking his post as assistant professor and Senior Research Scientist at Oregon State University, Dennis was the Michigan Natural Features Inventory's lead ecologist from 1987 to 2004.
Chris Pague
Chris led the Colorado Natural Heritage Program for six years in the 1990s, helping rescue the Colorado program by shepherding its transition from a state agency into Colorado State University. He previously worked as a zoologist for the Virginia NHP and is now Senior Conservation Ecologist at The Nature Conservancy.
Visualizing Our Work
This year's Map-Mapa-Carte Contest brought in some fantastic submissions, with Pronatura Veracruz taking the top honors for their gorgeous depiction of honey production and its place in the ecosystems of the Mexican state.
Click on the maps below to see full-size versions
First Place: Pronatura Veracruz

Second Place: Georgia DNR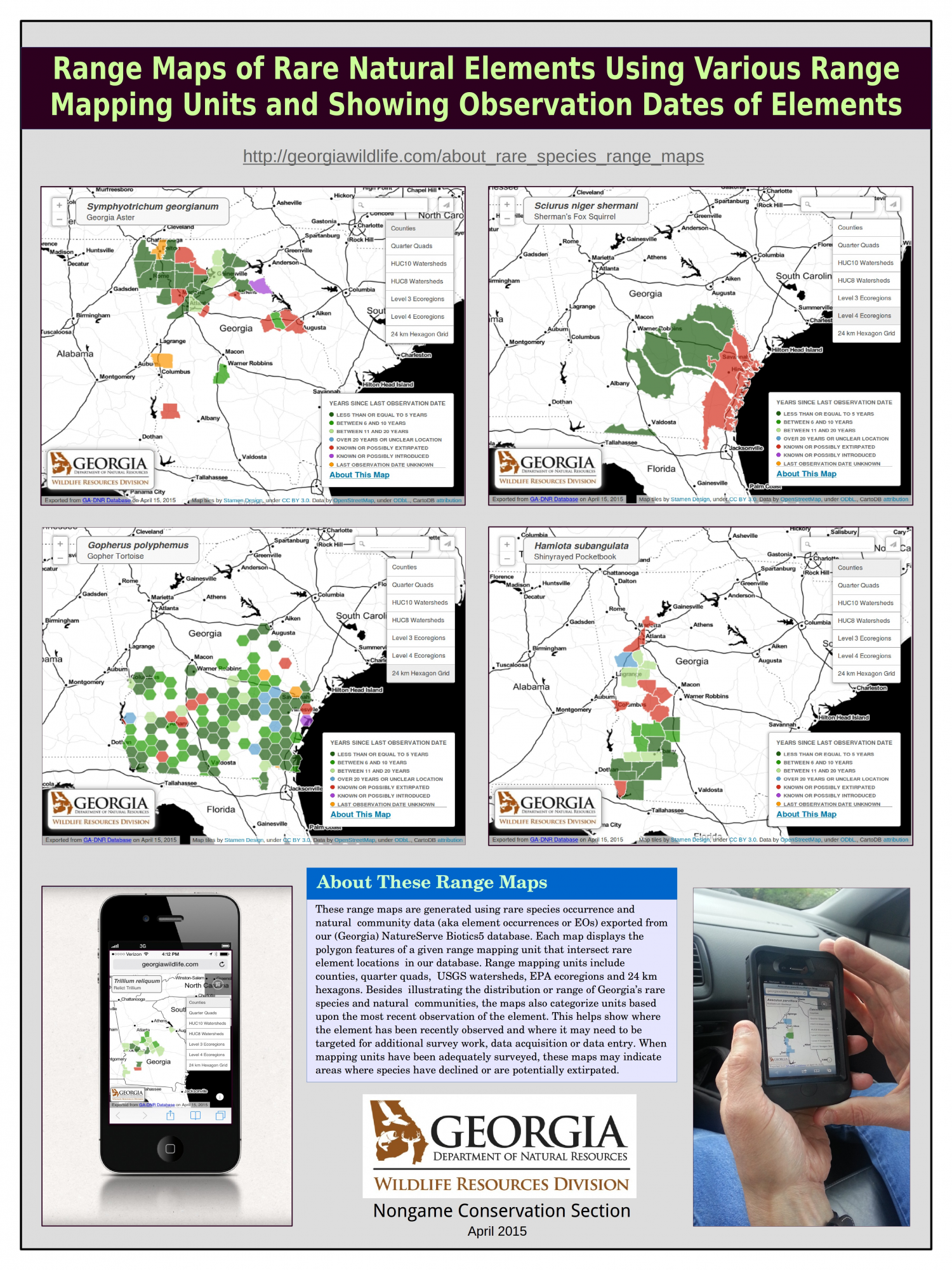 Third Place (tie): Unique Places LLC and Foothills Conservancy of North Carolina

Third Place (tie): NatureServe
The Great Lakes, Then and Now
Wednesday morning kicked off with a fascinating plenary speech by John Riley, chief science advisor for the Nature Conservancy of Canada and author of the masterful ecological history, "The Once and Future Great Lakes Country."
Weaving together a narrative that traced back to the last ice age and that drew from sources as varied as geological data, the fossil record, tribal histories, the accounts of early French trappers and missionaries, contemporary works of art and literature, Riley unfurled an engrossing story about the wholesale change wrought by the arrival of European settlers and continues to this day.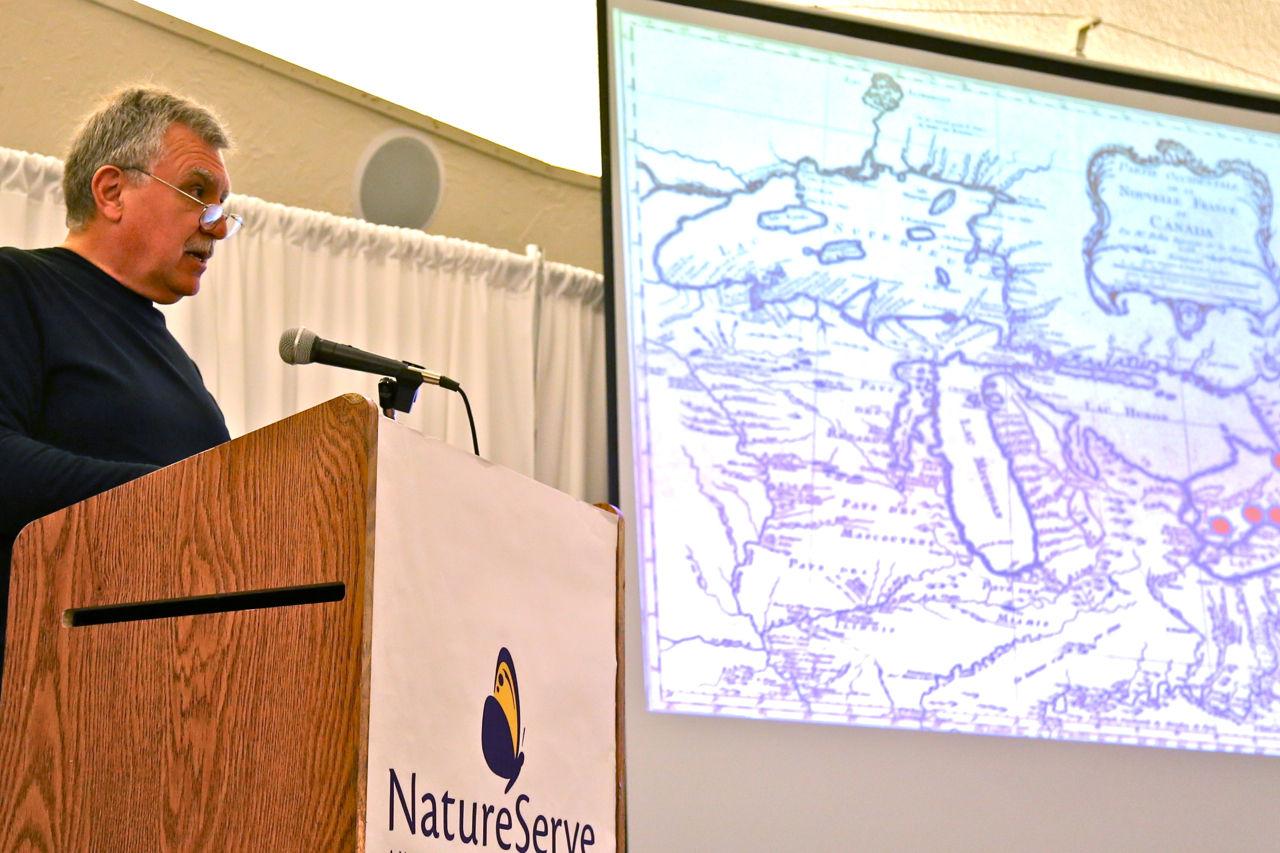 "Today, ships and planes, containers, and palettes, and even our own bodies, are hard at work sharing our pathogens worldwide. Too many humans, and too many co-evolving organisms occupying too little space with too few borders," he said. "… And so, the number of nature's possible futures shrinks as individual species, once dominant, are forced off the stage. Meanwhile, newcomer species, like these pathogens, continue showing up stage right. Fundamentally, we are no longer playing with a full deck, and never will again."
Its story is not one solely of devastation, invasions of non-native species (white settlers the most prominent among them), misuse, overharvesting, nearsightedness, and the general folly of an inattentive and oftentimes greedy populous. It is simultaneously, he said, a story of unrivaled human prosperity.
"Land and nature of the 1800s fueled in the 1900s some remarkable social achievements in Great Lakes country: a land-owning middle class, public education, and an Industrial Revolution. Not all invented here, but mark my words: they were perfected here in Great Lakes country. The result, in that era, was the world's most egalitarian, democratic, and merit-based society—subsidized by the liquidation of nature's capital."
The Great Lakes were a region that had been so abundant with fish, wildlife, towering forests, and expansive pristine prairies that European arrivals were compelled to think it a paradise on earth. That enthusiasm—that notion of resources so vast as to be inexhaustible—ushered in a swift and precipitous upheaval, Riley said.
"Ask scientists to imagine the worst possible assault on the landscape, what would it be? First, remove any vestige of the original native stewardship from the most productive lands. Then, remove the dominant native fish and wildlife (and the natives themselves). Survey the land into an unnatural grid of small land parcels. Build a road to each one. Install an industrious family on each parcel, armed with ownership and a mission, and with the tools to clear, drain, farm, hunt, fish, and dam it. Spice what's left with thousands of deliberate and accidental non-native species, then find cheap energy to subsidize the growth of unprecedented city-states. Bring to a slow boil with climate change. And to guarantee results, accomplish all this in less than two centuries to avoid any deep affection for the land that might creep in over a longer period," he said. "Our achievement: a dumbed-down, see-through facsimile of Old World landscapes. Add to this invasives, pathogens, and now climate warming and weather uncertainty—most, byproducts of our modern city-states, full of people just like us, living permanently (and electronically now) in fast-forward, in debt, indoors, and in denial."
Riley turned his focus to one imperiled habitat—Great Lakes grasslands—and one particular peril: invasive species. The litany of examples date back centuries—and in many cases, only a few years. Take, for example, a soybean aphid that arrived from China in 2000 and exploded across the continent, bringing a wave of lady bugs chasing in hot pursuit. The result: A recent survey found that more than 60 percent of ladybugs in Canada are non-native.
"These challenges go beyond biology and ecology. It's a challenge that has to be translated from our field notes and our old stories—from our maps and reports and databases—into conversations with people about the home place," he said. "We are the measurers of nature. How do we convey what we know across social, sectoral, and generational borders? Our conservation plans, our ecological assessments, are complex and likely decades ahead of their time. My own experience has been that working on them has sometimes seemed like playing a full symphony in an empty hall."
By awakening to the extent of devastation and the possibilities offered by taking a cue from nature, mankind can devise biological solutions that build toward a restored future.
"Today, there is more forest cover, cleaner water, more recovered species, and a better quality of life—even as the human footprint deepens," he said. "There may be little left of the original place, but there are new ambitions afoot. Arguably, restoration is taking hold."
The list of recovering species is not as long as the list of those lost, he said, but it is a list nonetheless. There are mass tree plantings. In some areas, 15 percent of the land has seen native species return or has been deliberately restored. And many species enjoy not only legal protections, but seem also to be endowed with "existential rights."
"The general public now knows what it means to bring back nature in their neighborhoods," he said. "Who could imagine even 20 years ago that I could be writing my book one day, when 30-odd turkey right outside my window would be struck twice by a golden eagle the same winter a cougar was seen hauling a deer carcass two roads over?"
Riley closed his address with an optimistic, albeit sobering, outlook. Just as the landscape of 1600 had changed drastically by 1800, then again by 1910, "it will be different again in 50 years."
"Over time, nature has its way—with us, or without us," he said. "I would rather it was with us. That's the trajectory we're now on in Great Lakes Country."